projects
JRA "Roppongi Hills Christmas Illumination"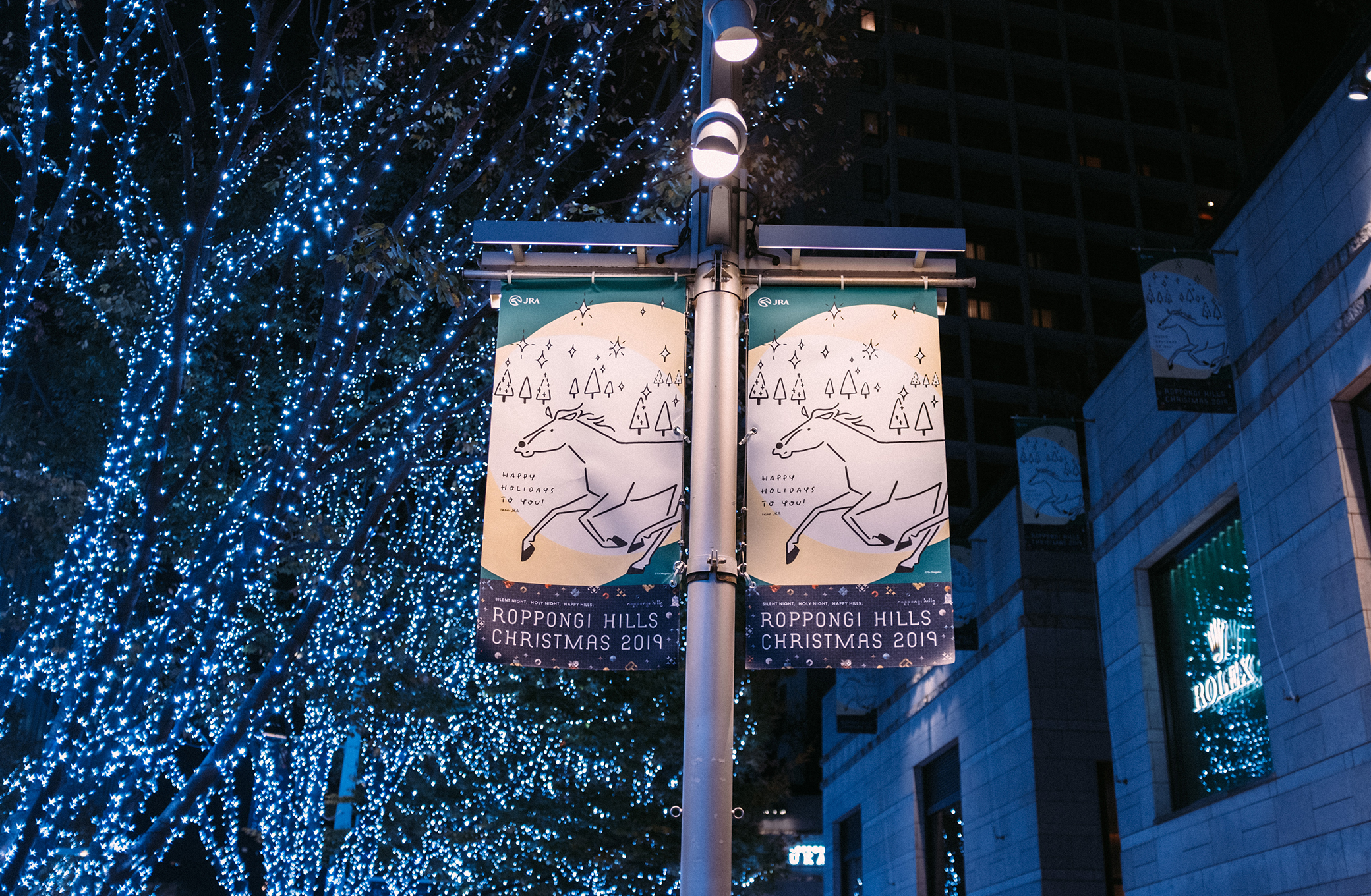 overview
Visual design for Christmas illumination of Roppongi hills Keyakizaka. Since 2019, the area sponsor is JRA. We worked on various design to achieve the mission to brighten up Keyakizaka and excite the town with Christmas mood and to improve JRA's company image.
六本木ヒルズ/欅坂エリアのクリスマスイルミネーションのヴィジュアルデザイン。2019年からこのエリアのスポンサードをJRAが行うことになっていた。欅坂を彩り街のクリスマスムードを盛り上げることと、JRAの企業イメージを向上させるというミッションを受けた。
goal

- all sorts of design : graphic, good, sign
- 各種デザイン:グラフィック、グッズ、サイン
idea
To let JRA become the main part of all illumination, we needed an easy and recognizable design.The reason is because, media was dotted around the town so everyone had to notice at a sight that " it's the horse one ! ". We designed it to be memorizable for people in town using simple graphic and illustration of horse. Illustrator was Yu Nagaba. We tried to help race horses look cute using his illustration outlook and let people feel that horse race isn't that bad after watching the illumination.
JRAが街中をジャックし、イルミネーションの主役になるためには、簡潔でわかりやすい表現が必要だ。なぜなら、媒体が街中に点在しているため、どの媒体を見ても、「馬の(JRA)のアレだ!」と、ならなければいけないから。シンプルなキーグラフィックと、馬のイラストを組み合わせることで、人々が街の中を移動する際に、記憶に残るようにデザインをした。
イラストは、長場雄さんに依頼し、長場さんの世界観を借りて、競走馬、ひいては競馬ってなんかいいかも!という読後感を醸成することを目指した。
team
creative director : daiki kobayashi , TOW
art director / designer : yoshio nakada , terminal Inc.
illustrator : yu nagaba
executions