projects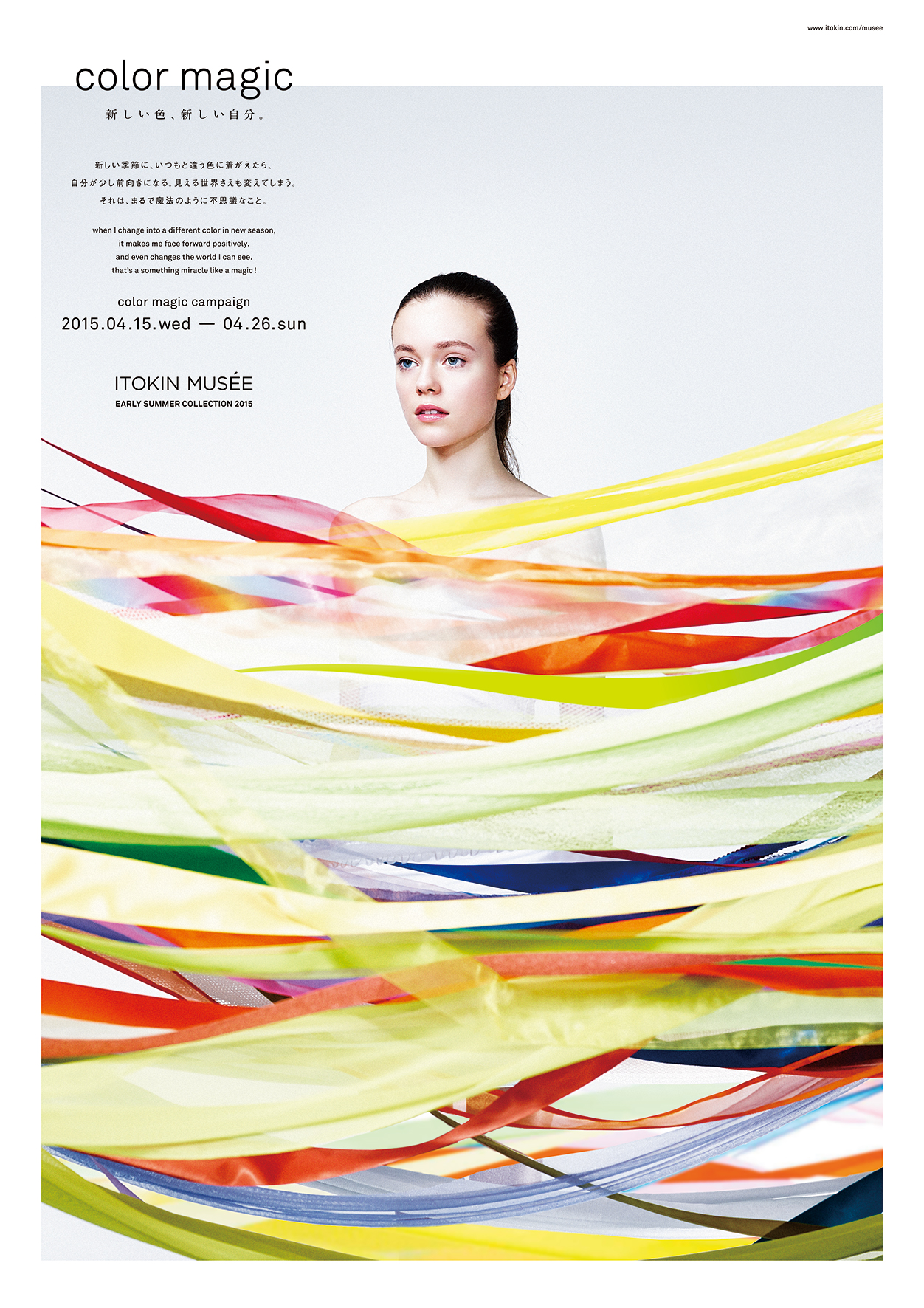 overview
ITOKIN, an apparel company who has various brands, helds a group exhibition to show the new items to customers and buyers every year. In this exhibition, 13 brands were merged and terminal Inc. worked on concept making, key visual, all sorts of graphic design, hall setup, and shooting direction.
多数のブランドを持つアパレル企業ITOKINが、新商品を発表する際に
顧客やバイヤー向けの合同展示会が毎年開催されていた。
この展示会では、13のブランドが合同で開催され、terminal inc.では、コンセプトメイキング、キービジュアル、各種グラフィックデザイン、会場構成、撮影ディレクションを手掛けた。
goal
- concept development
- brand statement making
- all sorts of design : graphic, good, sign
- exhibition hall design
- shooting direction
- コンセプト開発
- ブランドステートメント開発
- 各種デザイン:グラフィック、グッズ、サイン
- 展示会会場デザイン
- 撮影ディレクション
idea
"color" has a very important role in fashion. This campaign theme is "plentifulness of color". To express how the colors of clothes change peoples' feelings, we set "color magic" as our concept word and proposed the visual that all sorts of color themselves surrounds the model. We wanted to use real photograph to show the freedom of fashion and the strength of colors, and 2 directions colorful ribbon idea, or colorful dots idea, were discussed. By examining the developping media and items, we put the idea into real shooting.
ファッションにおける「色」は、とても大きな役割がある。このキャンペーンのテーマは「色の豊富さ」だ。まとう服の色が、人の気持ちを変えてしまうその効果を「color magic」というコンセプトワードで表現し、色そのものがモデルを取り巻くようなビジュアルを提案。ファッションの自由さと色の強さを表現するために実写にこだわり、カラフルなリボン案と、カラフルなドット案の2方向で検討を行い、展開する媒体やアイテムに落とし込みながら検証を進め、撮影に臨んだ。
team
creative director / art direction : yoshio nakada , terminal Inc.
planner : kiyoshi ishii , terminal Inc.
designer : yoshio nakada , terminal Inc.
photographer : tomohiko tagawa
web developer : takuya nakajima
space designer : gen futatsugi
executions