projects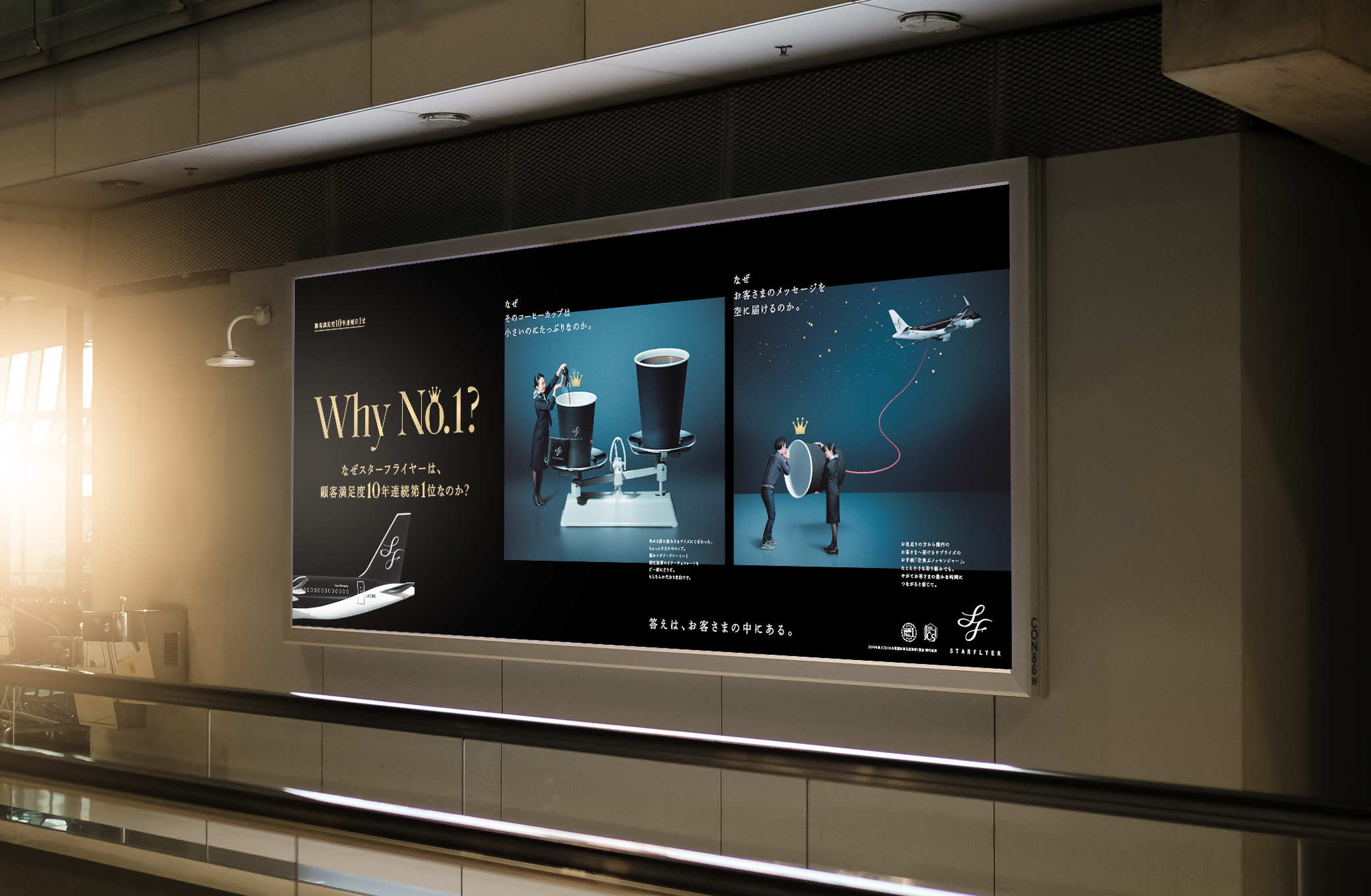 overview
Star Flyer is the airline company based in Kita-Kyushu. We worked on the company advertisement telling the "fact" that for a decade they keep rewarding the No.1 customer satisfaction title. We designed signboards for airport, and advertising poster inside the subways.
北九州を拠点とする航空会社、スターフライヤー。
顧客満足度10年連続No.1という"事実"を伝えるための企業広告を制作。
空港の看板や、地下鉄の中吊り広告のためのデザインを行った。
goal
- all sorts of design : graphic
- shooting direction
- 各種デザイン:グラフィック
- 撮影ディレクション
idea
The idea of unraveling the triumph of continuous reward of No.1 customer satisfaction title by using the concept "why No.1?" was planed by Mr.Watanabe's team of TOMO. In terminal Inc. we worked on visualizing the outlook of each episode that compose the fact of No.1 by using miniature. With the help of photographer Mr.Uenoyama, we made each visuals by taking photo's of each parts and combining it later.
顧客満足度10年連続No.1という偉業を、"Why No.1?"というコンセプトで紐解いてゆくフレームが東急エージェンシー / TOMOの渡辺さんのチームでプランニングされた。terminal Inc.では、このアイデアを受け、"Why No.1?"を構成するひとつひとつのエピソードを、ミニチュアの世界観でビジュアライズした。
撮影を依頼した上野山さんと共に、パーツごとに撮影を行い、合成でヴィジュアルを作り上げた。
team
creative direction: koki watanabe, Tokyu Agency TOMO
art direction: yoshio nakada, terminal Inc.
design: atsushi tsuburaoka, terminal Inc.
project management: teppei iizuka, terminal Inc.
photography:
retouch:
executions