projects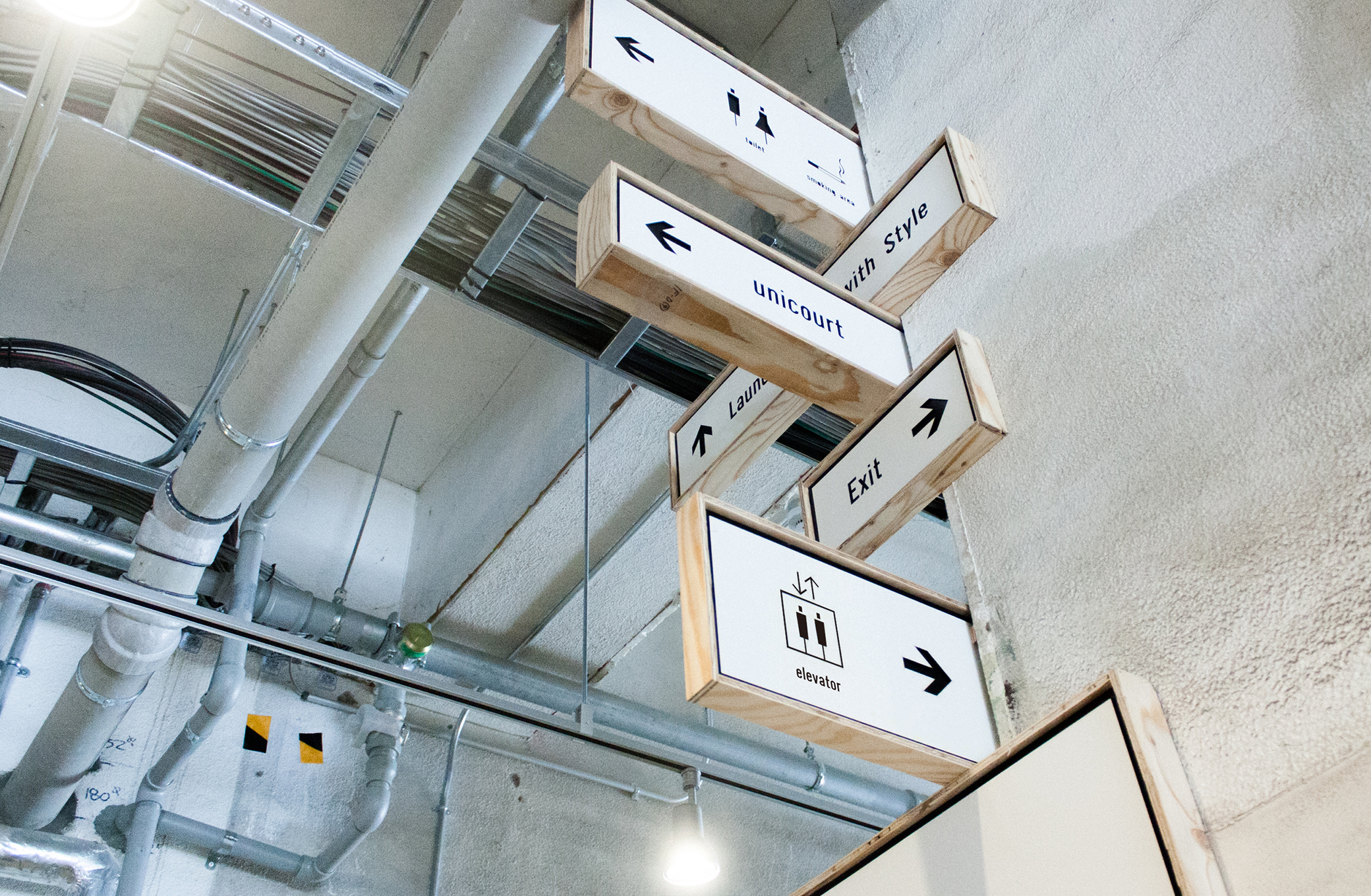 overview
The sign scheme for "Unico" a new born renovation institution in Kawasaki Kanagawa prefecture. The building was established in 1967 and Yoneyama inc. was using as their main office, factory, and dormitory. After a while, their group company used it as warehouse but they left due to the transposition. And after that the building was abandoned for 16 years until last year. At this time, they renovated the building as a part of 70th anniversary project. To tribute the land they grew, they wanted to change the building into an institution that vitalize the region. We coworked with the company that planed the renovation and took charge of the sign scheme.
神奈川・川崎に誕生したリノベーション施設「unico」のサイン計画。
1967年創立の建物を、事業主である食品関連会社の株式会社ヨネヤマが本社・工場兼寄宿舎として使用後、グループ会社が倉庫として活用するなどしていたが、移転などを契機に昨年まで16年間廃墟となっていた。今回、同社70周年事業の一環として同建物をリノベーション。創業地への感謝を込め、地域活性に繋がる施設へと刷新が図られた。設計を手掛けたオンデザインと協働し、サイン計画を担当することになった。
goal
- art direction
- Logo design
- アートディレクション
- ロゴデザイン
idea
Sign scheme concept is "traffic sign". "Unico" the complex creative base for various creators in Kawasaki. The building is 5 story in total and the ground floor is open cafe that is contiguous to the outside, 3・4th floor have share working space formed by several small offices. To embody the concept "harmony with the town" entrance part is designed to make the border line vague between the outside space and inside space. The frontage is widely opened and designed to be like the extension of the street. To match this spatial design, we set "traffic sign" as the sign concept and designed as the street space was drawn into the building. Floor sign was designed after road sign, and is functioned as guide of each rooms. We made wall sign that is cut out from the wood and piled up like a real traffic sign. We coworked with fab studio that moved in to the ground floor for this. Pict-gram and, typeface… we sticked through with the traffic sign for whole design.
"交通標識"をコンセプトにしたサイン計画。
さまざまなクリエイタ−が集結する川崎の新たな創造的複合拠点「unico」。
全体は5階建で、内外が地続きとなった1階にはオープンカフェ、3・4階には、スモールオフィスの複合するシェアワーキングスペースが入っています。「街との調和」を表現するため、内部空間と公共空間である前面道路の境界が曖昧なエントランスとなり、大きく開かれた間口が、道路の延長となるよう空間デザインされている。
これに合わせ、サインは道路空間を建物内部に引き込んだような"交通標識"をコンセプトとした。床のサインは、道路標識の要素を取り入れ、各部屋の案内などサインの機能も果たしている。壁面のサインは、1階に入居するfab工房と共同し、木材を切り出し交通標識のような木箱を積み上げたサインを制作。ピクトグラムや書体に至るまで、"交通標識"をモチーフとしたデザインを行った。
team
creative director : osamu nishida , ondesign partners
art director : yoshio nakada , terminal Inc.
designer : chihiro wakai , terminal Inc.
architect : osamu nishida / shiori mori / sara ito / yukio osawa , ondesign partners
executions